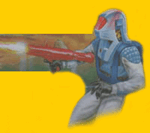 FIGURE PACKS
(1986)
For a short time late in the 1st series or early in the 2nd, Kenner released a handful of 2-packs. They sold for about $3.99 and allowed you to get the other figures in the show without buying the vehicles. My guess is these were released early in the 2nd series because all of the figures have the re-designed masks, and were characters not available with the new vehicles.
Figures

Team

M.A.S.K.

T-Bob and Scott were also released as a boxed version in the UK only. You can check out the Box here and the manual on the Toy Page

M.A.S.K.

M.A.S.K./V.E.N.O.M.

M.A.S.K.

M.A.S.K.

V.E.N.O.M.
---
ADVENTURE PACKS
(1986)
These were similar to the Figure Packs, but featured a single character with some small accessories. The 1st 4 were readily available here, but the 2nd "Mystery Adventure" packs were only released in Europe.
| | | | | | |
| --- | --- | --- | --- | --- | --- |
| Figures | Team | Description | Driver | Mask | Accessories |
| | M.A.S.K. | | | | |
| | M.A.S.K. | | | | Backpack, Binoculars, Crossbow, Belt, |
| | M.A.S.K. | | | | |
| | V.E.N.O.M. | Offensive Adventure | Miles Mayhem | Ripper | Backpack, Missiles, Hoses, Arm cannons (x2) |
EUROPEAN "MYSTERY ADVENTURE"
Figures

Team

Description

Driver

Mask

Accessories

M.A.S.K.

Hondo Maclean

Blaster II

Aqua Lung, Sea Sled,
Fog Pitchers, Harpoon

M.A.S.K.

Calhoun Burns

Gulliver

Backpack, Toboggan, Hook
Blizzard Gun, Snow Shoes,

M.A.S.K.

V.E.N.O.M.

Magna-Beam

Cutting tool, Hydraulic Backpack
Wrench, Tool Center
---
FOREIGN FIGURES
ARGENTINA (1986)
I managed to get my hands on some Spanish figures from Argentina. Man, are they crappy. They're called "Munecos Articulados" -- and they're an exercise in how many times you can re-paint the same figure. Most of them are repaints of Ace Riker from Slingshot. If not, they almost all have his mask.
EUROPEAN FIGURE PACKS
These four packs were released only in Europe. Interestingly, the background artwork is from the Racing series, but all the figures are re-paints of the 2nd gen characters. Perhaps again, a way to get figures that were no longer available...
| | |
| --- | --- |
| Figures | Team |
| | M.A.S.K. |
| | V.E.N.O.M. |
| | M.A.S.K. |
| | V.E.N.O.M. |
| | V.E.N.O.M. |
| | M.A.S.K. |
---

BACK
---