Got Lazy and decided just to put up a plain old page with my Mego Customs and some links. Nothing fancy -- and it's quick and easy. Also have some pictures of my Customs as well as links to better sites.
<![if !vml]>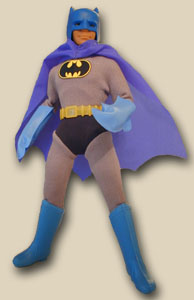 <![endif]>I should say right away that if you're even MODERATELY interested or nostalgic for Mego toys, you should definitely go to the MEGO MUSEUM. This was the site that got me hooked.
What's a Mego?
This part lifted straight from the Mego Museum FAQ:
"Mego (pronounced Mee-Go) began as a small toy manufacturer in the 1950's, but didn't get into the Action Figure market until 1971. They tapped into the market trying to cash in on the success of Hasbro's GI Joe. They opted for a smaller, less expensive toy. They settled on a new design, the result was 8" of drastic plastic: Action Jackson! Soon after, Mego licensed the rights to various comic book, television, and movie characters, all to varying degrees of success. Their largest mistake, however, came from not licensing a property. In 1977, they were offered toy rights to a little known film called "Star Wars." Kenner Toys ultimately got the rights, and a toy legend was thus created. Mego continued on, and tried to copy the success of Kenner's Star Wars line by introducing figures in both the 3 3/4" scale and the 12" size. None of this seemed to matter, however, and Mego eventually went bankrupt in 1982."